Social News
Kangana Ranaut Attitude Regarding PM Modi Security
There was a serious lapse in the security of Prime Minister Narendra Modi on Wednesday (January 5). PM Modistuck on a flyover for about 20 minutes due to a serious security lapse while going by road in Punjab. After this case, while the BJP Punjab government has been facing serious allegations, the Punjab government has also formed a high level inquiry committee in this matter. But now the matter has reached the court. The statement of Bollywood's 'Panga Queen' Kangana Ranaut on this matter (Kangana Ranaut on PM Narendra Modi Security Breach) has also come to the fore. He has termed the lapse in the security of PM Modi as shameful.
Kangana Ranaut said- 'This is an attack on democracy'
Kangana Ranaut has shared a post on social media and termed it as shameful. Kangana has expressed serious displeasure over this matter. He shared a post on his Insta story. The actress wrote- 'Whatever happened in Punjab is shameful. Respected Prime Minister a democratically elected leader/representative/the voice of 1.4 billion people. An attack on them is an attack on every Indian… It is also an attack on our democracy, Punjab is becoming a stronghold of terrorist activities, if we do not stop them now, the nation will have to pay a big price for it.
Post Going Viral
This post of Kangana is now becoming very viral on social media. At the same time, politics is constantly heating up on the issue of leaking of the route of PM Narendra Modi to reach Ferozepur. BJP is constantly attacking the Punjab government, how did the protesters get to know about the route of PM Modi.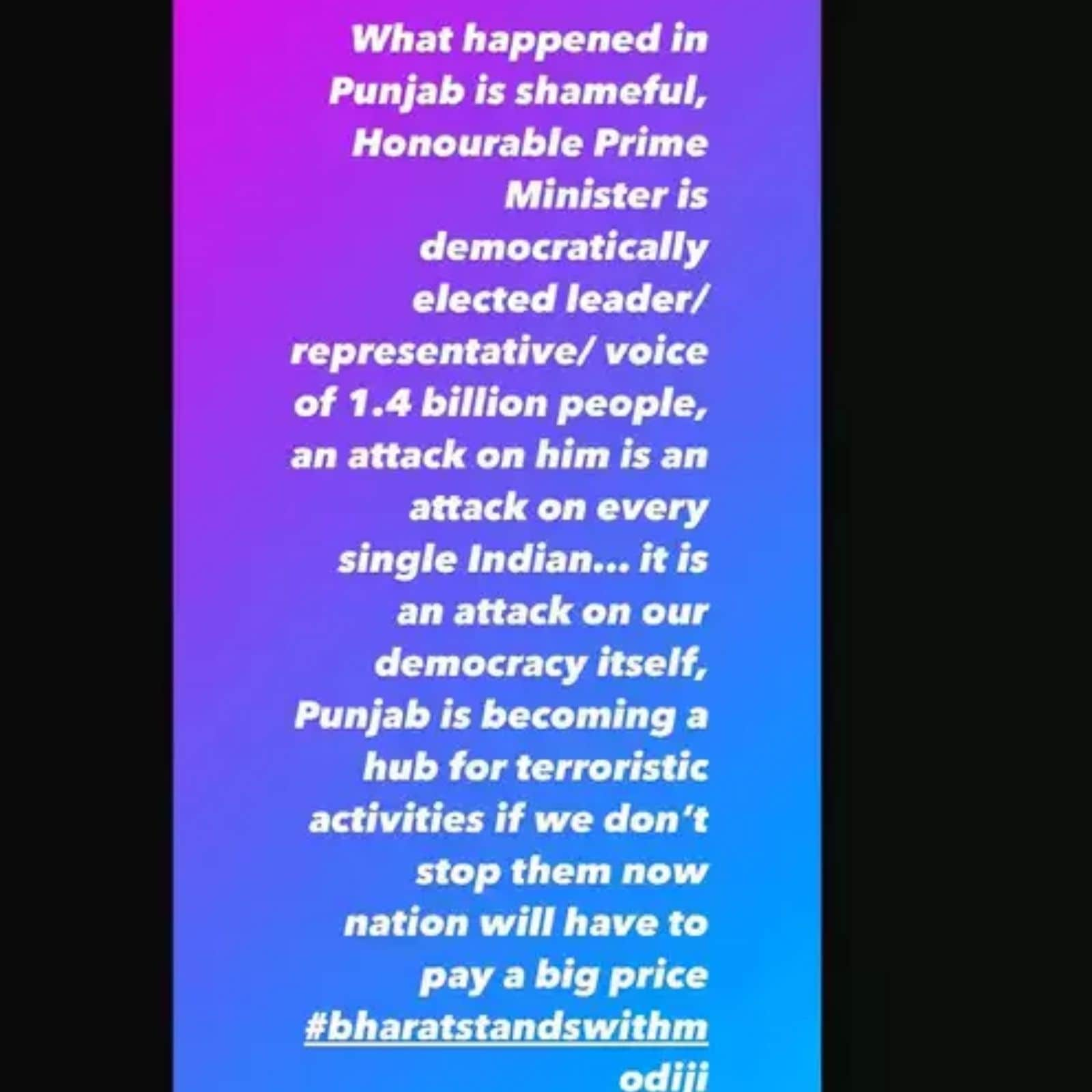 Kangana is surrounded by protesters in Punjab
Kangana has openly praised PM Modi on many occasions. Even during the farmers' protest, he shared many posts and called the protesters Khalistani. Let us tell you that Kangana also surrounded by protesters in Punjab. A videoshared last month, in which his car seen stuck in the middle of some people. Kangana had told that she was asked to apologize and the people protesting calling themselves farmers.